There's no doubt that energy bills are a topic of conversation for many Australians, from householders to businesses to regulators to investors.
Not surprisingly, Australia isn't the only country that is constantly grappling with not only the cost of energy to the consumer but how to ensure future energy security and reliability in a changing environment.
While it's hard to directly compare the different circumstances impacting energy markets in different parts of the world, there are always things we can learn from what's happening overseas.
At least we're not these Texans!
Imagine getting an electricity bill for over $6,000 – for less than a week's usage! That's real bill shock!
That's what happened to some households in the US state of Texas following destructive (and deadly) winter storms that parts of the United States endured a couple of months ago.
The storms caused widespread blackouts and then, while trying to deal with the aftermath, some Texans were faced with eye-watering electricity bills as a result of an unusually deregulated energy market.
Texan consumers can choose between scores of competing electricity providers, some of which sell electricity linked to wholesale prices. These, of course, rise with rising demand, and so they absolutely skyrocketed as the record-breaking freeze hit a state that rarely experiences extreme cold weather.
What that meant, though, was some of those who were able to turn on the lights and keep their fridge running during the volatile wholesale period had no idea the energy rates were so high and ended up with bills of over $AU6353 ($USD5000) for only five days of usage!
One provider offering a wholesale-linked energy plan had urged its thousands of customers to switch suppliers ahead of the storm to avoid high prices (although they did not have enough time to get the full message out). Thankfully, most energy consumers were not on wholesale-linked prices, but rather traditional energy plans with a relatively fixed rate.
Where does Australia sit, on average?
The price consumers pay to power their homes varies depending on where in the world you live. Australia is somewhere in the middle: Aussie prices are not the highest, but not the lowest either.
The International Energy Agency (IEA) regularly monitors prices around the world. While they do fluctuate somewhat, the 'league ladder' has been similar for the past few years.
Here's what the most recent survey, released in September 2020, found in regard to household electricity prices (in $US per kilowatt-hour):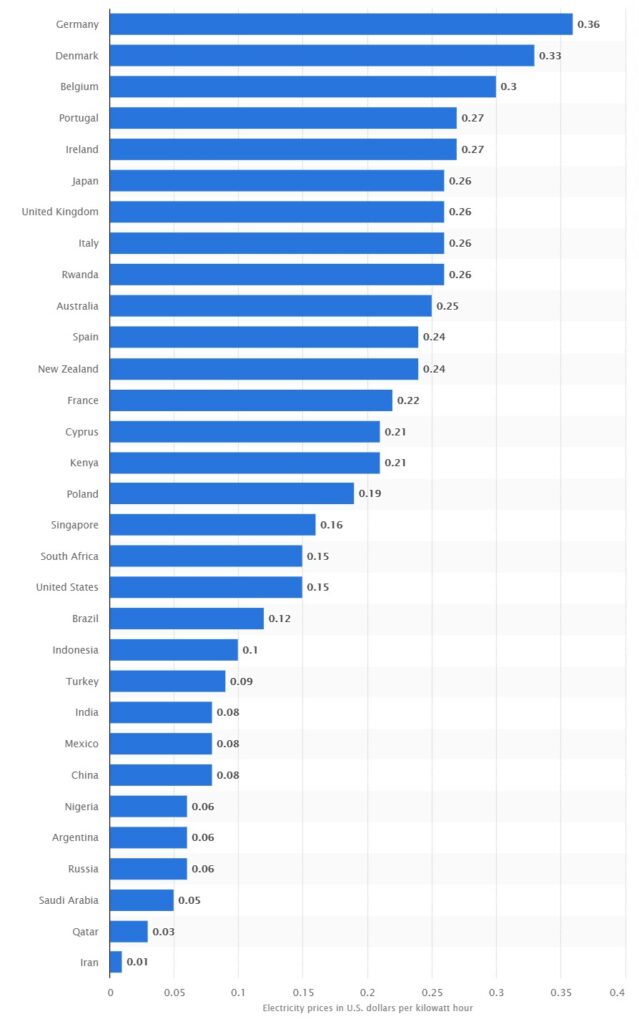 Source: Statista
Denmark held the top spot until recently – largely due to their high taxes on energy – however, German electricity prices have been rising steadily for the past decade, as the country moves away from fossil fuels and atomic energy to renewable sources. Grid fees and a renewable surcharge now make up nearly half of Germany's total electricity prices.
Why is electricity so cheap in some places?
Let's have a quick look at Qatar, the richest country in the world, largely due to its natural resources.
It has some of the cheapest electricity due to its vast reserves of crude oil and natural gas (it provides about 13% of the global supply).
Qatar is a net exporter of energy, meaning it exports more energy than it imports.
Mind you, until 2019, citizens of the gas-rich, ex-Soviet, Central Asian nation of Turkmenistan enjoyed free gas, electricity, and water. Imagine that!
Can you believe some places still have no electricity?
Africa, a continent that is home to almost a fifth of the global population, uses less than 4 per cent of the world's electricity.
Residents of the countries in the north of the continent do have near-100 per cent access, however more than half of the sub-Saharan population have none.
That's around 600 million people living without electricity!
The main factors that impact prices
Global electricity prices are affected by a number of different factors.
As mentioned above, taxes and surcharges account for a percentage of bills in some countries, while others have a ready local supply, helping keep prices down.
Here are the main factors that most energy markets are impacted by: 
Availability of natural resources

Government policies and taxes

Wholesale energy market

Networking and supplier operating costs

The national energy mix

Environmental levies

Supply and demand
Fluctuations more likely to cause bill shock
One thing we can take away from what happened in Texas (and elsewhere) is that reliability with low risk is something we should value. While something might appear attractive at its best – for example, when the wholesale price is low – what about at its worst?
If you are comparing the lowest wholesale price with the consistent, stable, retail price, you're probably missing the point. Is it worth the risk of an unexpected, massive bill?
This is one of the things GloBird Energy has been quite strong about: we think having a consistently low fixed price offering is advantageous to most people.
At the same time, we are committed to being transparent about how we operate and how we charge.
Whatever energy costs, you can reduce your bills
Since we started GloBird Energy, we have done our best to keep our costs down so that we can keep our prices as low as possible. After all, cheaper electricity and gas is something everyone wants.
We encourage all consumers – whether you're a GloBird customer or not – to also do what you can to keep your bills down. Using less energy is always a good idea.
In case you missed them, here's a recent blog post that might help: Spring clean, check your appliances and save money, as well as one that's specifically about gas, The (almost) A to Z of saving on your gas bill, and one from a year ago focusing on winter: 7 things you should do now to reduce your winter energy bills.
If you're not yet a GloBird customer, why not take a minute (literally) to check if we can offer you electricity and/or gas for less than you're paying now. Just go here to get a quick quote.