Even though 2020 has been hard to keep track of, the calendar tells us we've just ticked over into September, which means spring is in the air.
If you haven't been one of those people filling your home isolation time by cleaning everything in sight, now might be the time to do something like a traditional spring clean.
While September doesn't automatically mean every day is sunny and warm – particularly in four-seasons-in-one-day Victoria – we are getting closer to putting away the winter things for the best part of six months.
That means portable heaters as well as winter bedclothes will be going back into boxes in cupboards and you might be bringing a tower fan back out of the spare room or garage.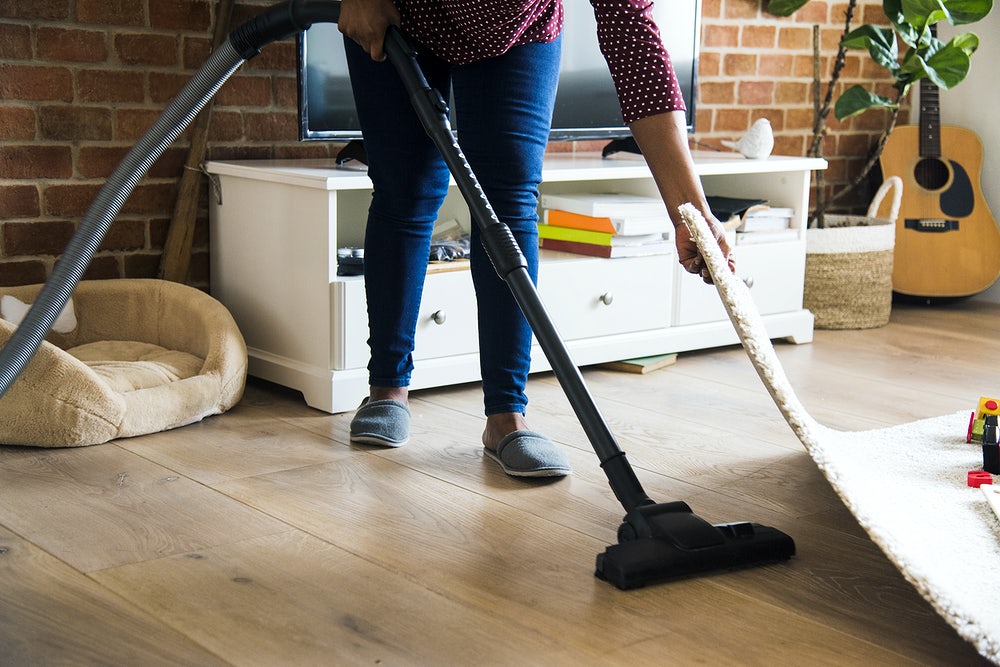 Why do people clean in spring?
Spring cleaning came about for some very logical reasons. Its origin was about letting some air through the house, doing the long-overdue dusting, and washing soot off everything.
That's because, in ye olden days, spring marked the time people stopped using their furnaces and open fires. That meant they could clean their walls, furniture, and fittings, and hang big things like curtains and blankets out to dry in the sun and wind.
But, these days, spring cleaning is as much a chance to rearrange things around the home, maybe do a bit of a cull of stuff you don't need any more that's just cluttering up the place, and basically make a concerted effort to get a bit more organised.
A good clean improves efficiency
There are so many appliances around the average home that we hardly give a second thought to, however pretty much all of them will not only last longer but also run more efficiently if they're clean.
And running more efficiently saves money, just as running inefficiently uses more energy and wastes money.
For example, there are filters in air-conditioning units, rangehoods, extractor fans, and dishwashers that all collect small particles and a build up of dust and grime, which makes each of those things have to work harder to do their job (and then don't even do it properly).
Some appliances that are used regularly should be cleaned at least every three months (how often do you clean your vacuum cleaner?), but rather than feeling guilty that you don't do it often enough, just make sure you do it really well when you do it.
And, while it's great to have clean and shiny appliances, this is more about making sure they're working efficiently so they don't use more energy.
Some general cleaning tips
For most electrical appliances (apart from the fridge), make sure they're switched off and preferably unplugged before you start cleaning.

When you're wiping down your appliances, start at the top, as crumbs and dirt will fall to the floor.
Distilled white vinegar and baking soda make an excellent natural cleaner.
Don't be afraid to use your vacuum inside the fridge, oven, toaster, or wherever.
Move appliances so you can wipe, mop, or vacuum the benchtops, walls, and floors behind and under them.

The air-conditioning unit is the big one
Depending on your air-conditioner type, you may need to clean the filters and coils fairly regularly.
It's estimated that dirty evaporator and condenser coils can increase the energy usage of your air conditioning system by over 30 per cent.
As far as the filters are concerned, it's recommended that you clean those every few weeks during periods of high usage. That's because the more clogged the filter, the harder the air conditioner has to work to push air through it, leading directly to higher running costs. If you only clean your filters a couple of times a year, this needs to be one of those times, ahead of the warmer weather.
Take the dust filters outside for a good brush or shake. They can usually also be vacuumed for a thorough clean (use the vacuum cleaner's dusting brush head if you have one). If they're very dirty you can wash them in warm water with some mild detergent and rinse them clean. Make sure they are completely dry before putting them back in the unit.
You may also be able to remove the unit's louvres to give them – and the space behind them inside the unit – a thorough clean with a dry cloth or with the vacuum cleaner.
Consider having a professional air-conditioner service technician do a thorough clean, if not annually then every second year.
How to clean a range of other appliances
Let's take you through some of the other common appliances and how to clean them.
Refrigerator
The fridge is a big bit of work, but well worth it, as any issues can build up and cause inefficient energy use and even overheating.
Take all the food out and throw away those expired condiments!

Pull out the drawers and shelves, soak them if needed, and wipe down the inside of the fridge with warm, soapy water.

Gently pull back the door seal to check for stains or dirt build up, and clean that with a solution made of bleach and water and a soft cloth (ensure you remove any leftover bleach solution with a damp cloth).

Take the cover off where the coils are (usually the bottom of the back) and use your vacuum with a brush attachment to clean off and suck up all the hair, dirt, and debris.

Dishwasher 
Fill a dishwasher-safe cup with white vinegar and place it in the top rack. Set your dishwasher to its longest and hottest cycle and let the vinegar work at loosening up food particles while also sanitising.
To clean the filter, pull out the lower rack and remove the filter cover inside the dishwasher (check your manual), so you can access and clean off the screen.
Washing machine
Top Loaders: Fill the washer with hot water and add a litre of bleach. Let it agitate, then let it sit for at least an hour before setting it to complete its cycle. Do the same thing using distilled white vinegar. Pour the vinegar and water mixture into the detergent and fabric softener dispensers, as well. After an hour, let it complete the cycle.
Front Loaders: Select the clean cycle or tub clean setting on the machine. Add two cups of vinegar to the detergent tray and allow it to run the cycle. Fill it a second time with hot water, adding two cups of bleach to the tray this time. Allow it to run the cycle again. Run a third cycle with nothing but water.  Remove the trays and dispensers and let them soak in warm, soapy water. Pull back the rubber seal around the door and using a bleach/water mixture, scrub it down.
Dryer
Pull off any knobs and the lint trap and soak them in warm, soapy water. Clean out the drum. Remove the vent tube from the back of the unit, pull out any lint before vacuuming to remove excess lint build-up. Also vacuum behind the dryer and around the vent.
Microwave oven
Squeeze some lemon juice into a bowl of warm water, add the lemon rinds and microwave for 5 minutes. As the water starts to boil, the steam will loosen dried bits of food. Carefully remove the hot bowl and use a clean towel to wipe down the inside of the microwave.
Rangehood
Remove the filters and soak them in the sink with a combination of hot water, detergent. and a-quarter-cup of baking soda for 15-20 minutes (you may need to scrub them with a dish brush or scourer). Then place the filters into your dishwasher on the hottest temperature. Make sure they're completely dry before placing them back into your rangehood.
Vacuum cleaner
Remove the filter and tap it against a hard surface to shake off loose dust, then gently remove the remaining dust with a brush. Hold the filter under running water until it runs clear (be sure to check for electrical components or attachments before rinsing in water). Dry it in direct sunlight and ensure it's completely dry before placing it back in the vacuum.

Iron
Make sure your iron is cool and unplugged. Mix half-a-cup of distilled white vinegar with one cup of distilled water and pour that mixture into the water reservoir. Use a toothpick to gently remove any white build-up you see in the steam holes. Then plug in the iron, set it to steam, and allow it to heat up for five minutes. Hold the steam button for 30 seconds six times. Unplug and let it cool completely before removing the vinegar mixture from the reservoir.
If you want to make sure you do a totally thorough appliance spring clean, don't forget anything that plugs in around food or water, like electric toothbrushes, coffee makers, kettles, toasters, food processors, and even electric can openers.
Remember, even if you are getting the cheapest possible electricity from GloBird, there's no good reason to waste any of it!