Did you know that an Australian-made hydrogen fuel cell vehicle will be available next year?
An auto-tech startup called H2X set up its factory at Port Kembla around six months ago and aims to be producing heavy vehicles, like tractors, within the next couple of months.
The company's plan is to roll out around 3700 vehicles in its first year of manufacturing and a total of 20,000 by 2025.
Within the next two years, we should expect to see its two flagship models, the Snowy SUV and a taxi/MPV/van.
You can read all about these on the H2X website and more about the experienced auto industry people behind the business in this article.
Hydrogen-powered cars are already in use
There are two models of hydrogen-powered passenger vehicles in Australia now, although they're not yet available for private sale.
Toyota's Mirai is being trialled by a range of organisations as part of the carmaker's hydrogen loan program. The Mirai was launched in 2014, making it one of the first to market.
Hyundai also has a loan program for its Nexo SUV, with a fleet of 20 being leased by the ACT government and another five heading to the Queensland government.
These rely on the establishment of hydrogen refuelling stations, with other states currently looking to set those up so that they can join the program.
Here's how the Hyundai Nexo website explains how hydrogen powers its vehicles: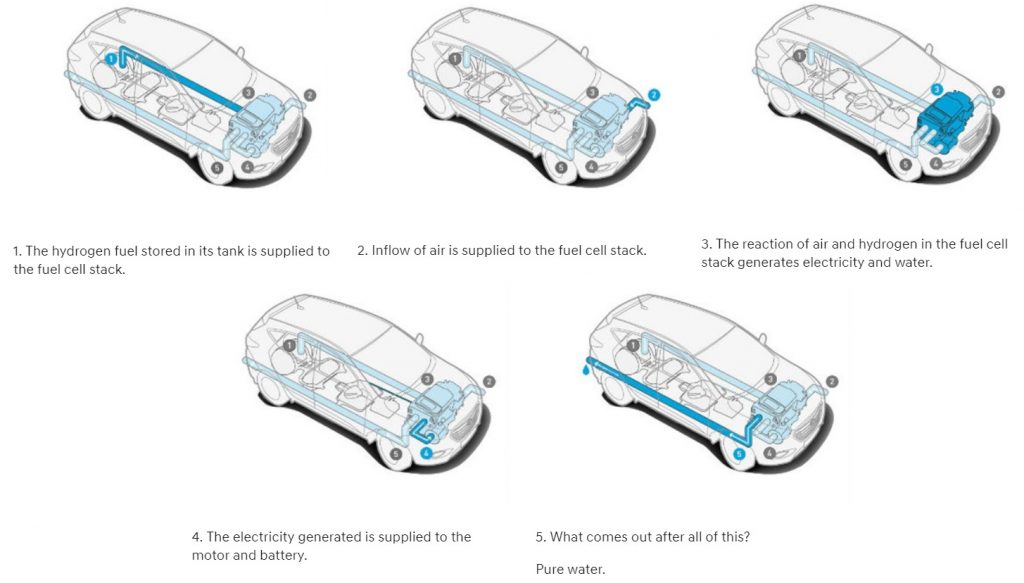 How do hydrogen-powered vehicles work?
Hydrogen vehicles produce energy internally using a fuel cell. Hydrogen stored in the vehicle's fuel tank reacts with oxygen in the fuel-cell stack through a process called reverse electrolysis. This produces electrical energy, heat, and water.
The electricity either flows directly to the electric motor to power the vehicle or charges a battery that stores the energy until it's needed. The water (and heat) is emitted through the exhaust as water vapour.
The battery in a hydrogen-powered vehicle is much smaller and lighter than one in a fully electric car as it is constantly recharged by the fuel cell so doesn't need to store as much energy.
How do you get the hydrogen into the vehicle?
Hydrogen is the most common element in the universe. It's non-toxic and easily stores for extended times. It can be stored as a liquid for transportation or storage.
A hydrogen fuelling station is not dissimilar to a petrol station. The driver pulls up alongside the 'pump', plugs a hose into their vehicle, and it takes between three and five minutes to fill the tank.
Is the fuel efficient?
Hydrogen outperforms both chemical batteries and hydrocarbon fuels, in terms of energy density. One kilogram of hydrogen contains approximately 3.4 times the energy of one kilo of petrol.
H2X says the Snowy SUV will travel approximately 650km between refuelling stops.
What emissions are produced?
Hydrogen-powered fuel cell vehicles don't produce any CO2 emissions. The only thing a hydrogen-powered vehicle emits from its tailpipe is water vapour.
Is it safe?
The hydrogen is stored in liquid form in thick-walled tanks designed to withstand damage. Extra safety mechanisms protect against leaks and explosions.
An average petrol fuel tank holds up to four times the energy and explosive potential of a hydrogen fuel-cell tank.
Is there support for hydrogen as a fuel?
The federal government has flagged hydrogen as a 'priority' low-emissions technology under its recently announced $18 billion Technology Investment Roadmap to lower Australia's carbon footprint. 
Are there downsides?
Before we get too excited about the prospect of hydrogen-powered vehicles, we need to recognise the barriers to widespread adoption.
Infrastructure is virtually non-existent and setting up a sizable network of refuelling stations would require a massive investment.

It requires special storage, as liquid hydrogen needs to be contained at massive pressure or extremely low temperatures.
Commercial-scale hydrogen generation is currently done by reforming methane or natural gas with steam, which requires regular power grid energy, so it's not that eco-friendly.
Even assuming a renewable energy source is used to sustain it, a hydrogen economy is a less efficient means of making a car move than charging an electric car directly from a solar panel or wind generator.
What's the take-up been like overseas?
Sales of hydrogen-powered vehicles around the world are low compared with battery electric vehicles and plug-in hybrids.
The biggest markets are California, where just 8500 have been sold (compared with half a million battery electric vehicles) and China, with 7000 (versus four million battery EVs).
Will we be seeing hydrogen-powered passenger cars in Australia?
Because Australia is a relatively low-volume vehicle market, along with the lack of refuelling infrastructure and their relatively high purchase price, hydrogen-powered cars are unlikely to be seen as preferable to battery electric vehicles for the bulk of motorists.
However, there is a chance that hydrogen power might prove to be viable for some government fleets, some public transport, and large commercial vehicles.
Mercedes-Benz announced recently that it would focus its resources on developing fuel-cell tech for heavy vehicles, in partnership with Volvo Trucks.
It's an interesting and evolving space, made more so by the H2X venture and the recently announced partnership between Pure Hydrogen Corporation and Hyzon Motors to collaborate on the hiring out of hydrogen-powered commercial vehicles.