Last year, we wrote a couple of posts about the Australian Competition and Consumer Commission's Retail Electricity Pricing Inquiry report*, which concluded in June 2018, and the recommendations it contained. 
In a nutshell, we thought what the ACCC produced was pretty fair, including the fact that they identified that wholesale prices and network costs are by far the major contributors to the average bill, and that they would keep looking at ways to reduce those.
The ACCC is now conducting a seven-year inquiry into the supply of electricity in the National Electricity Market (NEM) and has committed to providing regular updates. 
We were very interested to see what was in the August 2019 electricity market report, released in mid-September.
In case you don't want to read all 137 pages, here's a snapshot of a few things we think you'll be interested in:
People on market offers are on the best deals
One of the first of the ACCC's recommendations to be brought in was about pushing down those expensive 'standing offers', essentially the default price a customer would be charged by a retailer if they were not on any sort of special offer or deal.
Many large incumbent retailers place their customers on an expensive 'standing offer', in fact, almost 7 per cent of customers in Victoria are on a standing offer.  
Interestingly the ACCC states: "Market offers continue to provide opportunities for a better deal, with smaller retailers providing some of the cheapest offers". 
GloBird is proud to say that 99.9 per cent of our customers are on a 'market offer'.
We have consistently called for action on standing offers and are more than happy to put our hand up as a smaller retailer providing some of the cheapest offers!
Wholesale and environmental costs are up
As we noted last year, the average retail margin across the industry was quite small and, as a budget retailer, ours was even lower than the average.
When the ACCC breaks down the average customer bill into what it refers to as a cost stack, it identifies how much of the bill is attributable to five components:
     

Network costs

     

The wholesale price of electricity

     

Environmental subsidies/'Green Schemes'

     

Retail and other costs

     

Retail margins
As you can see in the below cost stacks, rising wholesale costs were the major driver of increases in the average customer bill in both Victoria and New South Wales, comparing the 2016-17 financial year to 2017-18 (keep in mind that that is now more than 12 months ago).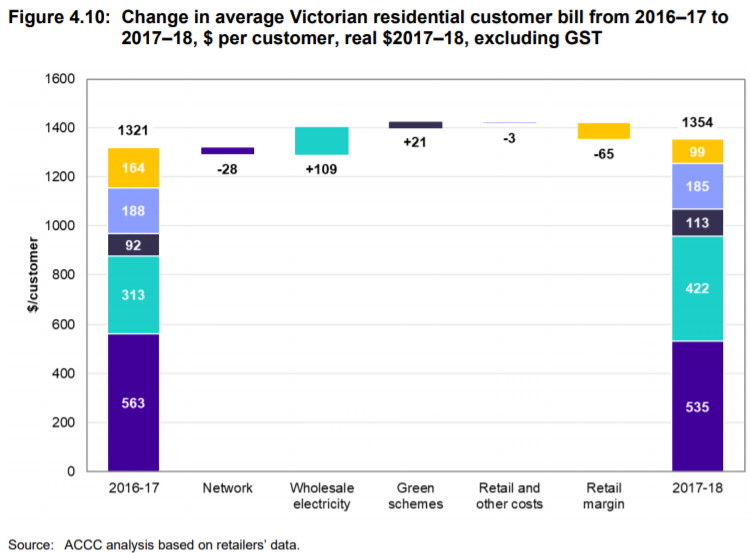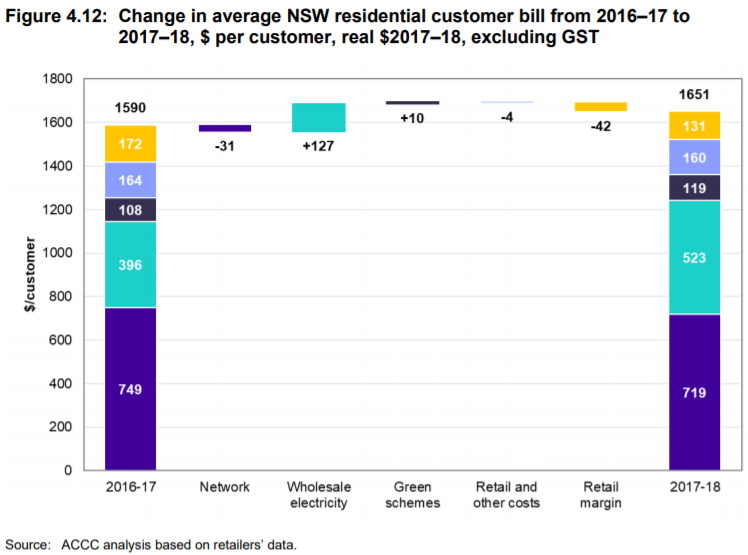 So, while wholesale costs rose, the average bill didn't rise as much as it should have thanks to lower network costs (for the first time in a while) and reduced retail margins.
In fact, what were small margins before have been compressed even further, largely as a result of increased competition … which means, ironically, by providing robust competition in the retail electricity market, we've made it harder than ever to be an energy retailer!
All costs have risen over the past decade
It won't come as a surprise to anyone that each component that contributes to how much we pay for electricity costs more now than it did 10 years ago (except for the retail margin, when that's separated out from the broader category 'retail and other costs').
However, apart from a significant percentage increase in the contribution of green schemes to your average bill, the other components have stayed at quite similar proportions.
Across the NEM, the cost of maintaining networks and distribution now accounts for 42% of the average customer bill, the wholesale cost of electricity takes up 33%, green schemes 8%, retail and other costs 11%, and retail margins around 6%.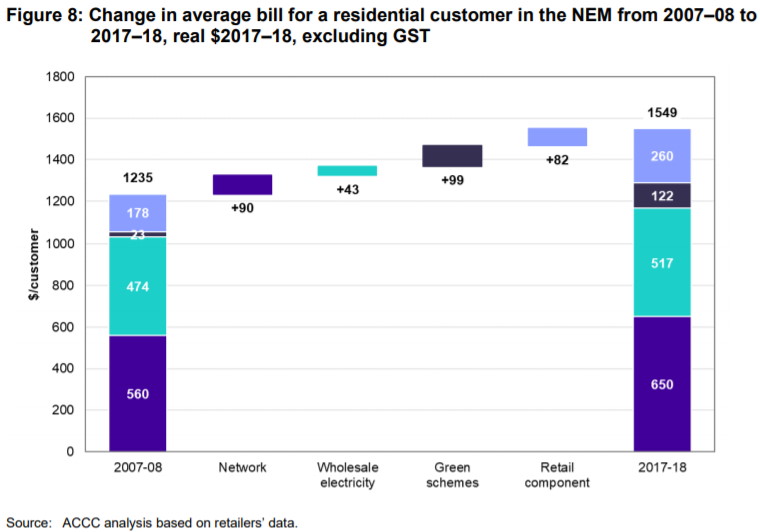 How can we get customer bills down?
The ACCC has identified more competition in the wholesale market as a major opportunity it believes will help reduce customer bills over the coming months and years.
As with any complex issue, it makes sense to start at the root cause, as addressing that is likely to have some desirable knock-on effects down the line (and, alternately, forcing adjustments in other areas is less likely to be sustainable).
We're pleased that the ACCC continues to see wholesale prices as one of the key areas they'll be maintaining an ongoing focus on.
While it remains to be seen what regulators and policymakers will be able to do to encourage more wholesale market competition, as we noted, increased competition at the retail level has already had a significant impact, driving margins even lower. 
As we've also stated many times in previous posts, we're all for increased competition.
In fact, we're here to provide just that.
You can easily find out whether GloBird Energy can do better than your current retailer, for both electricity and gas, here. 
*In case you'd like to read what we wrote about the ACCC Retail Electricity Pricing Inquiry report last year, these are the relevant posts: 
What the ACCC report has discovered about electricity pricing
How the ACCC inquiry into electricity prices is trying to help you
If you're wondering how Victoria's electricity prices stack up…