As we've written before, we founded GloBird Energy with a couple of basic goals: to deliver lower prices and greater customer satisfaction than what we were seeing in the energy sector.
Those objectives continue to drive everything we do (including engaging with people through these blog posts).
We're extremely grateful for both the loyal support of many long-term customers and the feedback we've received. Sure, it's not all positive, but we also appreciate any comments or issues that are raised that can help us lift our game.
Even though we think we're doing a pretty good job, we're also determined to stay hungry and work on ways to improve everything we do.
Having said that, it's extremely rewarding to know that we're achieving what we set out to do.
Which is why we're having a modest celebration about our wins in the recent Mozo Experts Choice Awards for the energy sector. 
For the third year in a row, GloBird Energy has been recognised by Mozo as offering outstanding value to Victorian customers.
In fact, this year we picked up a third award, having added gas plans to our electricity offering.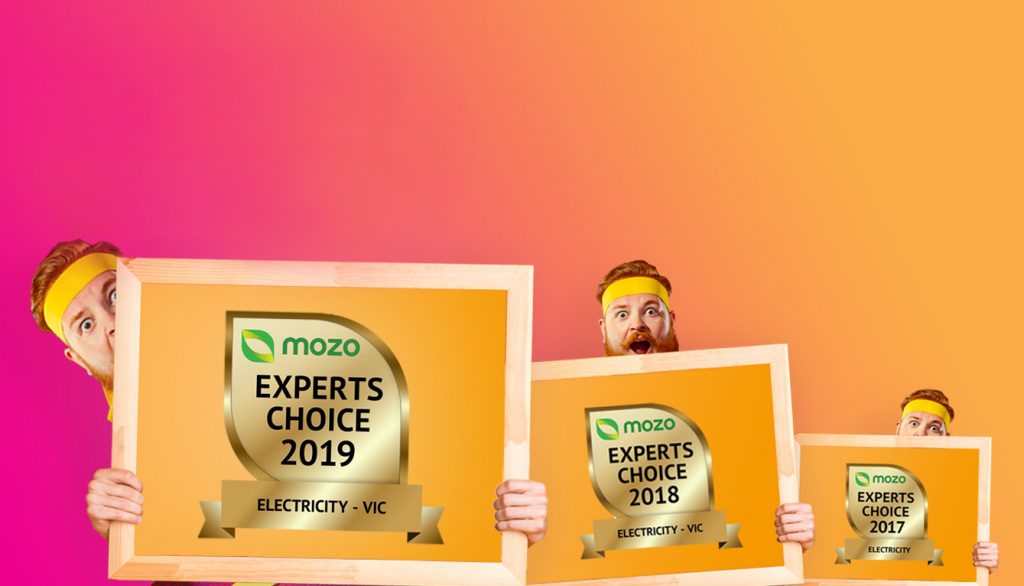 Our three Mozo Experts Choice Awards for 2019 are:
     

Best Value Electricity in Victoria for the EasySave Plan
Award winners are the cheapest energy plans for different customer scenarios and levels of use
     

Best Value Solar-friendly Electricity in Victoria for the EasySave Plan
Winners are the cheapest products for customers with solar panels, including feed-in tariffs and the cost of buying from the grid
     

Best Value Gas Plan in Victoria for our GloSave Plan
Recognises the cheapest gas plan for different customer scenarios and levels of use
That's fantastic recognition that we're getting a lot right (did we mention for three years in a row?!).
What is Mozo all about?
Mozo, the money-saving zone, started about 12 years ago as an online marketplace for financial services.
Its aim was to provide consumers with a simple means of comparison for the full range of retail banking products, from credit cards to loans and term deposits.
Over the years, Mozo has developed some world-first online tools and services, including a customer-rating system and a credit card comparison tool.
About the Mozo Experts Choice Awards
Mozo introduced the awards to recognise Australia's best-value banking products before extending the awards to cover the energy market three years ago (yes, we've won every year!).
The awards are based entirely on Mozo's analysis of 585 residential energy plans from 36 retailers and 456 products from 32 retailers servicing small business customers to determine which products are the best value.
They compare every plan sold directly by every retailer in the market, for a range of different usage levels and in every distributor area, to find the best value options available.
The key is that they're recognising consistently low prices for households of different sizes and locations, over time.
Importantly, the Mozo Experts Choice Awards prides itself on its commercial independence, its use of experts and putting a customer lens on the judging process.
What does it mean for you?
For us, it's very welcome recognition – and reinforcement for our hard-working staff – that we are truly providing the best value we can.
For you, whether you're an existing GloBird Energy customer or not, it means you don't just have to take our word for it.
An independent body that exists purely to provide consumers with the best possible advice to help them save money has given us a very big tick (again).
If you're not in Victoria, don't worry, we won't leave you behind. We've taken a couple of years to establish a robust business and we're now ready to bring these award-winning offers to other states – so look out for us soon.
Check us out
As Mozo points out, it pays to shop around to find a plan that best meets your needs.
If you're ready to sign up for Victoria's Best Value Electricity, Best Value Solar-friendly Electricity, or Best Value Gas Plan, come straight to our sign-up page and get a super-fast, obligation-free quote.
Or you can contact us with any questions at any time.
Our customer service team is right here in Victoria, and we promise to look after you.