We read and hear quite a bit about 'clean energy'. So much so, that we tend to sometimes see it as wishful thinking. After all, people have been talking about it for years, and it's still not much more than a concept.
Or is it?
A few weeks ago, The Australian's Environment Editor Graham Lloyd wrote a piece that made us really sit up and take notice.
He explained technology being developed by a team of scientists at the University of NSW that has already been granted patents in the US, Japan, and China.
To share this news that's made us hopeful that a truly transformational breakthrough might be close, we'll try to summarise this technology pioneered by Emeritus Professor Heinrich Hora and his team. 
What is it?
It's a process that uses high-powered lasers to fuse hydrogen and boron atoms together to generate electricity.
Boron is naturally abundant and relatively inexpensive to collect. 
The process doesn't produce any emissions or toxic waste (the only waste product is helium).
Because it uses lasers it can produce fusion energy without the massive amounts of heat required by other fusion approaches – the main scientific challenge that has been a barrier to fusion energy for more than half a century.
There's no possibility of a 'meltdown' and the reactor can safely be placed in densely populated areas.
It's not intermittent, so baseload power can be generated.
It's also scalable, so you could have relatively small reactors in remote locations just as easily as larger plants powering a city.
You can read more on the HB11 Energy website.
But technically … how does it work?
The reactor design is simple. It consists of a largely empty metal sphere and two lasers.
A modestly sized HB11 'fuel pellet' is held in the centre of the metal sphere with openings for the lasers to do their work.
One laser establishes the magnetic containment field for the plasma while the second triggers the fusion chain reaction.
The alpha particles generated by the reaction would create an electrical flow that could be channelled almost directly into an existing power grid.
Here's how it's explained on HB11 Energy's website: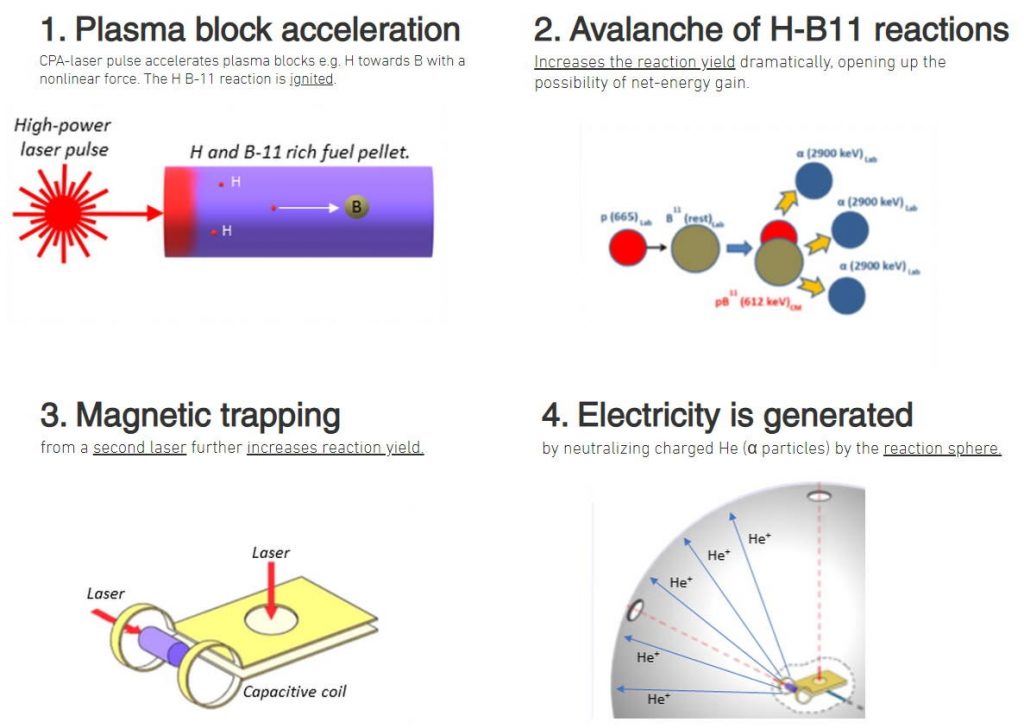 How far along is this?
Like a lot of things still in development, it depends who you ask. Professor Hora has been working on the research for more than 40 years and says advances in laser technology have been the key to seeing his theories on the verge of fruition.
Around the world, others are trying to create something similar, and billions of dollars in funding has been committed to the cause.
Yet some believe that we're still 30 years away from viable technology.
Nonetheless, the UNSW spinout company HB11 Energy, which owns the patents, is looking for final funding to develop a prototype.
If all goes to plan over the next couple of years, and they can secure the best part of $100 million in funding, we could see a pilot plant built within five years.
This could be the best source of cheap electricity that's clean and safe. We're excited by this leap forward in science, led by good old-fashioned Australian research, ingenuity, and perseverance. As we've seen before, Australians can rise to any challenge.
Fingers crossed that we'll all be loving boron and its clean energy in the not-too-distant future!