As we deal with the ongoing challenges of a COVID-19 world, those of us living in areas that weren't badly impacted by last summer's devastating bushfires may have all but forgotten how bad things were for several months.
But we've been having a look at the annual review of system operations in the National Electricity Market (NEM), released a few weeks ago, and it's brought the events of the 2019-20 summer back into sharp focus.
As temperatures soared and bushfires raged on the east coast, the Australian Energy Market Operator (AEMO) had to intervene an unprecedented 178 times, while there were 95 unplanned transmission outages (more than triple the previous year).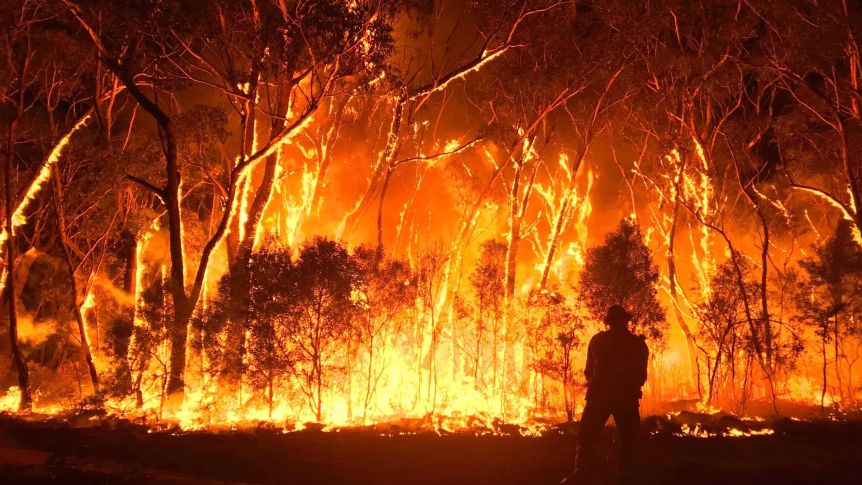 There were some significant issues and events
Perhaps of greatest concern is that parts of the network were impacted by six 'separation events' over this past summer (there were none the previous summer). There was also one outage classed as a 'widespread interruption'.
In November, South Australia was separated from the national energy market for five hours after two transmission lines in Victoria tripped due to 'spurious signals from telecommunications equipment'.

Later that month, Basslink power from Tasmania failed for two hours.

In December, soaring temperatures led to an unexpected outage of wind turbines for the first time.

In early January, bushfires took out transmission lines in NSW, separating the state from Victoria for seven hours.

In late January, a storm destroyed six transmission towers in Victoria, again separating South Australia from the national grid and putting the Portland aluminium smelter under threat.

At the start of March, South Australia was again separated for about eight hours when a circuit breaker at Heywood Terminal Station tripped.
And those are just the most significant of the 95 unplanned outages (58 in NSW, 12 in Victoria, nine in Tasmania, and eight each in Queensland and South Australia).
Additionally, there were eight 'actual low reserve conditions' declared.
How is AEMO managing these issues?
It's worth noting that every year AEMO prepares a summer readiness plan. Collaborating with generation and transmission network providers, federal and state governments, and other key agencies, they look to proactively manage any heightened risks to power system operations.
Then, by the middle of the following year, they review how everything panned out. This, of course, helps inform the following summer's plan, while also giving all stakeholders useful data and analysis for longer-term planning.
While they focus on operational outcomes, the energy sector (and policymakers) can glean a lot of useful information about how the market is impacted and the corresponding financial implications.
In this review, AEMO has identified measures that will help improve the operational visibility of the power system, decision-making processes, and market mechanisms, to ensure a more resilient system into the future.
Some work needs to be done
The review concluded that the industry's contingency planning and preparatory work was effective in mitigating the power system impacts of a challenging summer. In other words, it could have been worse if the plans weren't in place.
However, it notes that those challenges – record high temperatures, extreme and catastrophic fire danger, significant smoke and dust, and violent storm activity – are here to stay.
The threat of these conditions recurring means interstate transmission lines and grid infrastructure need to be enhanced to give them a greater chance of coping.
Interestingly, despite the horror bushfire conditions we experienced across Victoria and NSW, with the smoke and ash reducing solar output, the national energy market with traditional coal-fired power held up better than it did the previous year.
Is infrastructure the main concern?
The grid has already started changing.
As we noted in last year's post How much is a stable electricity grid worth, the grid "was designed and built when the majority of electricity was generated in particular ways in particular locations", which doesn't cater well for new generation sources in new places. 
We also explained in Have you ever thought about how solar energy impacts on the grid? that "with most coal-fired power stations coming to the end of their life, we're looking at less and less stable dispatchable power in the system".
Coupled with those challenges is the issue of massive fluctuations in demand over short periods of time, as outlined in section 9.2.8 of the AEMO report:
"Summer 2019-20 has highlighted that power system now needs to meet the challenges of both high demands in the early evening during heatwaves and low demands during the night and in the middle of the day. These low demand periods create challenges for voltage control and frequency control."
Add to that mix the possibility of further 'separation events' and it's clear there are several pieces to the puzzle.
What's being done to address the issues?
Part of the solution is the construction of new major transmission lines in the west of Victoria and NSW, something Snowy Hydro boss Paul Broad has been advocating for some time.
These would protect security of supply by putting lines through non-forested areas that are less prone to fires while also allowing better integration of renewable energy suppliers.
One such line, connecting Wagga Wagga in NSW to Robertstown outside Adelaide, is already in the planning stages in the hope it will help deliver reliable cheap electricity.
AEMO identified new interconnections between states, as well as integration of wholesale demand response, more flexible market design, and interim reliability measures as priorities.
The report concludes: "Australia's physical gas and electricity infrastructure is being increasingly challenged by extreme and high heat and fire periods."
"The need to harden these assets to more extreme climatic conditions and consider opportunities to enhance the inherent resilience of the NEM when planning and delivering either new projects or replacing existing infrastructure will be a necessary element of future NEM planning."
These are massive challenges. The balance between delivering the cheapest energy possible and the most reliable grid is putting increasing pressure on AEMO and all market participants, and this flows into energy prices.
However, even though it is proving to be a challenge transitioning to a greener energy future, it's good to know that the change is underway and we're taking action in the right direction.