When we last wrote about the uptake of electric vehicles, we noted that petrol and diesel-fuelled vehicles still accounted for 97 per cent of the Australian market.
Now, about two-and-a-half years later, that figure is closer to 90 per cent.
The number of charging stations being built around the country, particularly ultrafast charging stations, has also continued to increase, as has the number of manufacturers either already supplying or about to release EVs onto the Australian market. 
You might be interested in reading Electric cars are coming … but not all that fast to see the state of play back in mid-2019, which may help put the latest data into context.
The latest EV sales figures
Australian sales of electric vehicles tripled last year. Thanks, in part, to government incentives, Australians bought 24,078 EVs, a significant rise from the 6,900 sold in 2020.
The Tesla Model 3 was the best-selling electric car, and Tesla sold 15,054 cars (across all models) – that's 3 of every 5 EVs sold in Australia last year. The MG ZS was next best with 1,388 while the Mitsubishi Outlander PHEV had 592 sales. 
The most recent data from the Federal Chamber of Automotive Industries (FCAI) shows 620 electric cars were reported as sold in January 2022 – up from 296 during the same month last year – however Tesla doesn't report monthly sales.
Assuming that Tesla consistently accounts for 3 in 5 EVs sold, the January figure including Tesla sales is likely to have been around 1500.
How does that rank among overall sales?
The FCAI's 'VFACTS' report tells us that a total of 1,049,831 new cars were sold in 2021, a 14.5% increase compared to 2020.
So, even though they tripled, EV sales still accounted for just 2.3% of all new vehicle sales in Australia last year.
Here's the VFACTS breakdown of new car sales by propulsion or fuel type:
Petrol: 580,495
Diesel: 346,990
Hybrid: 70,466
EV: 20,203
PHEV: 3372
Hydrogen FCEV: 38
EV designates a pure electric vehicle, PHEV means Plug-in Hybrid Electric Vehicle, while Hydrogen FCEVs use compressed hydrogen gas to generate electric power via a fuel cell. There were zero Hydrogen FCEVs sold in 2020. 
It's when you combine hybrid and pure electric vehicle sales that you get a better picture of the move away from petrol and diesel, with that figure starting to approach a 10 per cent market share.
There are more models on the way
While Tesla dominates the EV market at this point, if there was any doubt that the future will head in the direction of electric vehicles, you only have to look at how many car makers are coming to the party.
There are currently over 30 electric cars to choose from in Australia, and that number is going to double in 2022.
Among the manufacturers slated to bring new EVs to the Australian market this year are Audi (2 models), BMW, Citroen, Ford, Genesis (3 models) Hyundai, Kia (3 models), Mercedes (6 models), MG, Peugeot, Porsche (3 models), Renault (2 models), Skoda, Toyota, and Volvo.
Are they still expensive?
Like petrol vehicles, you can pay plenty at the top end. You won't get much change from $200,000 for a Porsche or Audi EV, while a Mercedes, Jaguar, or Tesla will set you back well over $100,000. 
However, we're now seeing a very competitive marketplace around the $45-55,000 mark and there's an expectation that manufacturers — such as Chinese companies BYD (Build Your Dreams) and Ora — will soon have cars selling for between $35,000 and $40,000.
That's still not affordable for most people, or anywhere near competitive with petrol passenger cars. Industry experts predict that it won't be until around 2030 that we see any EVs priced at around $25,000, and they say we're never going to see an electric car priced close to $15,000 (a price at which you have a choice of petrol-fuelled models). 
While the cost of batteries is a tenth of what it was 10 years ago, it appears that the car makers see the current EV market to be those looking to spend $60-$80,000 on a well-appointed SUV, so there isn't yet a buyer-driven incentive to create 'lower-end' models.
Are charging stations keeping up?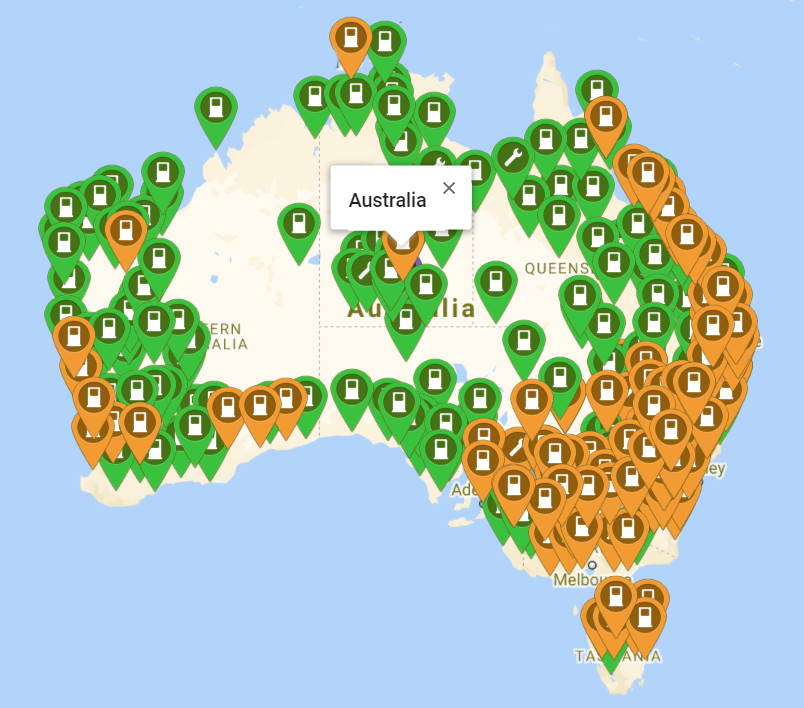 While it's getting easier to find a public charging station – at last count there were over 3000 charge points at some 250 locations around the country (see the map provided by Plugshare.com) – it's probably a good thing that many EV owners do most of their charging at home, often using the energy from their solar panels.
Otherwise, there might be regular queues for the most popular charging stations in the inner suburbs of Sydney and Melbourne with the greatest rate of adoption of EVs.
For example, according to EV charging network provider Chargefox, an EV charging station located in Brunswick is the country's busiest, with 725 charging sessions for the month of March 2021.
The majority of public charging stations are AC, although more DC fast chargers are being built. That includes about 40 DC Superchargers specifically for Teslas.
What's it like elsewhere?
In case you're wondering how Australia is tracking, the United States has around 50,000 public EV charging sites, while China had 66,000 charging stations (as of June 2021), and is rolling out more literally by the day, now approaching one million public EV chargers! 
Europe, meanwhile, has surpassed 25 per cent of all new passenger vehicle sales being plug-in EVs, with Norway hitting an incredible 90 per cent.
So, while Australia is moving forward with EVs, we've still got a way to go.