As total new car sales numbers fall in Australia, advocates of electric vehicles are gleefully pointing out that sales of hybrid and electric vehicles doubled in the first six months of 2019. 
In response, you might point out to those electric car advocates that doubling from 670 to 1277 still leaves electric cars as not much more than a blip on the radar, with petrol and diesel fuelled vehicles accounting for 97 per cent of the market.
However, hybrid vehicles – those that combine petrol and electric motors – make up a slightly more significant proportion of the new car sales figures, and those numbers have leapt from 6721 in the first six months of 2018 to 12,399 in the six months to the end of June this year.
We've got a long way to go if we're to meet the target set by the Electric Vehicle Council which wants half of all new vehicles bought in Australia to be electric by 2030, a target that the Labor Party backed at the recent federal election.
You might know a little about hybrid and electric vehicles – or not much at all – so here's a crash course:

What sorts of vehicles are we talking about?
Hybrid vehicles have a small battery that is charged by braking. They are able to use the battery for short-range 'city driving' while a petrol engine is used when driving longer distances.
Plug-in hybrid electric vehicles (PHEVs) have batteries that can be plugged in as well as petrol engines. Their batteries are bigger than the 'regular' hybrid ones but also allow a greater range.
Pure electric vehicles use a battery that's charged by plugging it in to a socket or charging station.
What 'pure electric' models are available in Australia?
There are five models in the 'cheaper' $45-$55,000 range: Hyundai's Ioniq, Nissan's Leaf, the Mitsubishi MiEV, and Renault's Zoe five-seater and Kangoo two-seater.
Hyundai's Kona Electric is in the 60-to-65-thousand-dollar range, while the BMW i3 will set you back closer to $70k.
If you're able to shop in the $100,000-and-above range, you can check out the BMW i8, Jaguar I-Pace and, of course, the Tesla Model S and Model X SUV.
And look out for the Mercedes EQC (around $150k), Audi e-Tron (also $150k+), MG eZS compact SUV, VW I.D. hatch, and Tesla's 'entry-level' Model 3 (around $60k) all coming soon.
Meanwhile, popular hybrids include Toyota's Prius, Camry, and Corolla models, the PHEV version of the Mitsubishi Outlander, the BMW X5 xDrive 40e, the Lexus LC 500h and RX 450h, and the Volvo XC90 (which seats seven).
You can read more on the My Electric Car website.
How do you charge an electric vehicle?
Most electric cars can be plugged into a regular 240v household wall socket, although they'll charge must faster using a 50kW wall charger.
Those two million Australian households with solar installations can use that power to charge their EVs, particularly if they have a battery like the Tesla Powerwall 2 or Enphase.
Finding a charging station out and about is getting easier, too. Plugshare.com offers a website and an app, which even tells you if a charging station near you is currently being used (see image).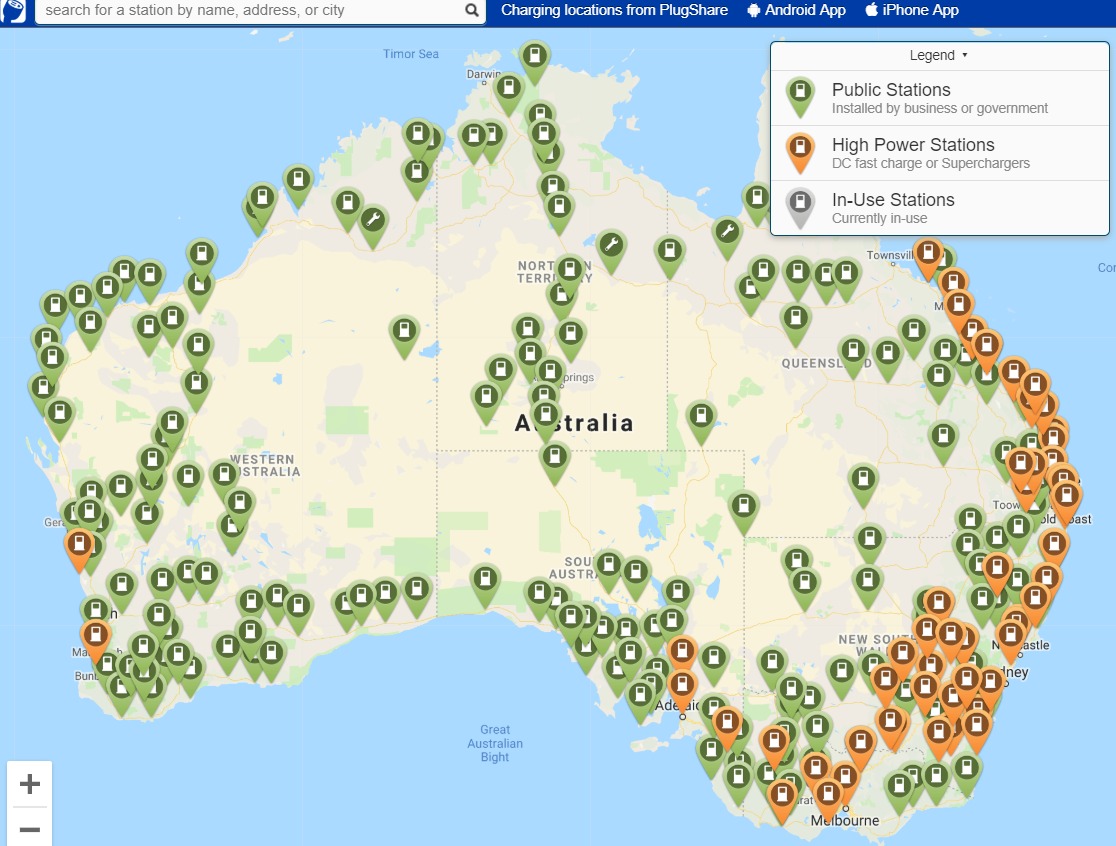 The Driven reports that there are now 71 sites with DC fast chargers – which can add 60-400 kilometres in range to an electric car every 15 minutes – around the country, most with one charging point but some with more.
That includes the largest ultra-rapid electric charging site in the southern hemisphere which has just opened at Westfield Airport West, 20km from the Melbourne CBD.
How long does it take to charge an EV?
The latest 350kW ultrafast chargers (there are four of them at the Westfield Airport West location mentioned above) will charge a car in under 15 minutes.
If you have a current model EV and a fairly standard 50kW fast charger in your garage, an 80 per cent fill takes under an hour (an 80% fill is used as a benchmark because the charging rate slows down for the final 20%).
How far can a pure electric vehicle go on a single charge?
Because a lot of Australians, particularly non-city dwellers, drive a fair distance in a single trip, it's understandable that you might be worried about your car running out of 'juice' far from a charging station.
This is still seen as a major shortcoming of pure EVs, although the Tesla Model S boasts a range of about 480km (and a top speed of 190 km/h), the new Nissan Leaf can cover the best part of 400km and the Renault Zoe will go for around 300km on a single charge … but the Mitsubishi MiEV will only take you 150km before it needs to be plugged back in.
This is where hybrids are seen by many as the more attractive option, allowing for a daily commute of up to around 50 kilometres on an overnight charge, but with the old-school petrol engine to take you on longer trips – and ensure that you're never stranded when the battery runs out.
How does the 'fuel' cost of EVs compare with petrol-fuelled cars?
Of course, electric vehicle charging isn't measured in the same way as fuel from the petrol station, so the industry has come up with the eLitre.
An eLitre represents the cost of running an electric vehicle the same distance that a comparable car would go on a litre of petrol. An EV runs at around $0.33 per eLitre in Australia right now.
Looking at it another way, if we were to take the average price for electricity as 25 cents per kWh, and say it takes 18 kWh to travel 100km, that will cost around $4.50. By way of comparison, the average petrol car in Australia uses 11.1 litres of fuel to travel 100km so, if petrol costs $1.50 a litre, that's $16.65. Even a very efficient diesel vehicle (5 litres per 100km) will cost $7.50.

Watch this space …
We will be watching the pattern of sales of hybrid and electric vehicles over the coming years as new models arrive, charging becomes faster and easier, and the prospect of government subsidies for the 20-thousand Australian businesses with fleets of 20 or more vehicles becomes a reality.
We have to acknowledge that it's highly likely we'll be living in a very different world by 2030 … but, come to think of it, all cars might be driverless by then!