How much does it cost to generate energy? Of course, that depends on what generation method you're using. It can be a little or it can be a lot.
'Mass producing' enough energy to power large population centres is more of a challenge and generally makes it more expensive, because you're working to generate a lot of energy constantly and consistently. And that's before you account for storage and distribution.
But what if we could find a better way to efficiently harness and utilise the energy that the planet already provides?
And what if we could build devices, appliances, and machines that could be self-powered by that energy, therefore not requiring the centralised collection locations and subsequent transmission?
Could the answer to all our energy problems be to reverse engineer the mass generation, storage, and distribution paradigm and return to the pre-Industrial Revolution model of ultra-localised energy use?
Let's have a look at what we've learnt through history.
We know the wind is powerful
It's a simple enough equation: if you need something to move, put it in front of the wind.
About 7,000 years ago, someone who lived along the Nile River figured out that if they wove some reeds to make a sheet and attached it to something, they could use the energy of the wind to propel their boat.
Over time, others figured out how to use the wind to power their somewhat rudimentary mechanical devices, pumping water in China and grinding grain in the Middle East.
Eventually, around 1,000 years ago, wind pumps and windmills were being extensively used for food production – and a few other bits and pieces, like cutting wood.
Water plus gravity equals power
If you've ever stood under a waterfall, you know that falling water packs a punch.
Water has been used to power machines for thousands of years. The earliest use of watermills and water wheels has been recorded as far back as the 4th century BC in the Persian Empire, Iran, and ancient Egypt.
By the time of the Roman Empire water wheels were in widespread use to power sawmills and millstones, and assist with mining, while in ancient China, watermills were used to help operate the bellows for their blast furnaces.
At the start of the 1800s water was used to provide power for the rapidly growing textile and machine industries. Then, in 1831, pioneer of power Michael Faraday invented the first electric generator which was essentially the prototype of modern hydroelectric power.
Don't sleep on solar
Solar energy has always been around. You want some light? Wait for the sun to come up. You want warmth? The sun will provide that, too. No equipment required.
At some point, possibly around 3,000 years ago, sunlight was first used to light fires. Later, in the 3rd century B.C., the Greeks and Romans were known to harness solar power with mirrors to light torches for religious ceremonies.
An early use for solar energy that is still popular today was the concept of sunrooms in buildings. These sunrooms used massive windows to direct sunlight into one concentrated area.
Ancestors of the Pueblo Native Americans situated themselves in south-facing abodes on cliffs to capture the sun's warmth during cold winter months.
In the late 1700s, researchers and scientists had success using sunlight to power ovens for long voyages. They also harnessed the power of the sun to produce solar-powered steamboats.
In 1883, the first solar cells made from selenium wafers were produced, although solar cells as we know them today came about in 1954 when a team at Bell Labs invented the silicon photovoltaic (PV) cell.
Thermal energy has been proven to work
Did you know that there's a clock in New Zealand that's been running since 1864 without ever having to be wound or plugged in?
The Beverly Clock, invented by Arthur Beverly and located in the foyer of the Department of Physics at the University of Otago in Dunedin, runs on atmospheric pressure and changes in temperature.
An airtight box inside the clock expands and contracts throughout the day pushing on a diaphragm. It takes only a six-degree Celsius temperature variation over a day to raise a one-pound weight an inch. This, in turn, descends, powering the clock.
Because the mechanism continues to function, the Beverly Clock is considered one of the world's longest-running experiments and is the closest thing to a perpetual motion machine created – so far.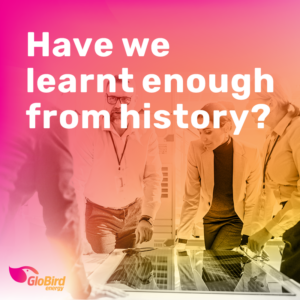 Have we learnt enough from history?
While scientists and inventors are trying to create the next big breakthrough, have we missed a trick?
Should we be putting more time and money into figuring out how to better utilise what's already proven and readily available?
It took thousands of years for any progress to be made, and we've certainly accelerated that over the past century, but is there really another breakthrough technology to be found?
Of course, everything we've used before can be made more efficient. For example, modern PV cells are four times more efficient than that first ever silicon solar cell, which converted sunlight at just four per cent efficiency.
And because we want energy available all night, we do need to get the storage aspect right.
But what if we had some sort of hybrid model, a bit like a car that has both electric and petrol-fuelled motors?
Is it feasible to use free energy all day and switch to whatever is the most cost-effective form of stored energy only when the free energy isn't available?
Maybe. But until then, we at least have part of the solution available. GloBird's Free Lunch plan has a two-hour free period every day.
With an abundance of solar being pumped into the grid in the middle of the day on most days, energy prices are low at that time.
If you can run your washing machine, dryer, dishwasher, and any other "non-time-sensitive" appliance when it's most likely being powered by renewable energy, that also means that you're not using an equivalent amount of electricity that's almost certainly generated from non-renewable sources after the sun goes down.
Between the hours of noon and 2 pm each day, residential customers with an eligible smart meter are charged an electricity usage rate of $0 for the standard usage circuits.
So, soak up the FREE energy. Charge up your battery, your EV, your phone. It's on us.