For the past 10 years or so, electric vehicles have been a topic of occasional conversation. Here in Australia, there are numerous reasons EVs have struggled to gain significant traction – not least how expensive they are and how few and far between charging stations have been.
Are we on the cusp of seeing that change? Could EVs be on the verge of a breakthrough that will see them become "mainstream" in the next couple of years?
About four years ago, when we wrote Electric cars are coming … but not all that fast, petrol and diesel-fuelled vehicles still accounted for 97 per cent of the Australian market … and that was after sales of hybrid and electric vehicles doubled in the first six months of 2019.
When we asked How are electric vehicles going in Australia? at the start of 2022, the proportion of petrol and diesel-fuelled vehicles was closer to 90 per cent.
Now, the Electric Vehicle Council's annual State of EVs report tells us that more EVs have been sold in the first half of 2023 than in all of 2022. 
A look at the sales figures
The State of EVs report has collated sales figures, tallying a total of 46,624 electric cars sold in Australia between January and June 2023. That's already 7,000 more than the 39,353 EVs sold throughout 2022.
While the 2022 figure represented 3.8 per cent of all new car sales, extrapolating this year's numbers to include forecast sales shows that rising to 8.4 per cent.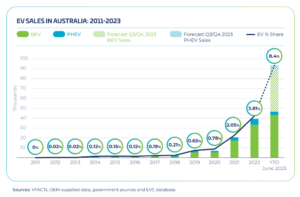 Interestingly, three models are dominating the market: Tesla's Model Y (17,332 sold in the first six months of 2023), the Tesla Model 3 (12,179 sold), and the BYD Atto 3 (7,201 sold).
However, 39 other models have also recorded at least one sale and the report tells us that there are currently 91 models available in Australia, 59 of which are BEVs (Battery Electric Vehicles) with the other 32 PHEVs (Plug-in Hybrid Electric Vehicles).
There are also 22 models of electric trucks and commercial vans and the same number of electric bus models.
Are more charging stations available?
According to the State of EVs report, there are now nearly 1,000 high-powered public chargers available at more than 550 different locations around Australia.
Fast charging is classified as offering between 24 and 99kW DC while ultra-fast charging means 100kW or more. There are now more than 120 ultra-fast chargers publicly available, so better than one in 10 of all chargers is now ultra-fast.
Meanwhile, the Federal Government, in conjunction with the NRMA, is undertaking a plan to put fast chargers every 150kms on our national highway network, with the first of a proposed 117 chargers having recently been installed at Mudgee in rural NSW.
The Driving the Nation initiative says: "New sites will complement existing and planned EV charging infrastructure. Site selection for new EV chargers will target known blackspots, prioritising regional and remote communities."
What if your car could be charged by sunlight?
It's possible that the next generation of EVs won't be as reliant on charging stations.
In fact, that next evolution of EV is not far from reality, with production underway on the first road-ready solar-powered electric car by Dutch company Lightyear.
The Lightyear Zero, which went on sale in Europe in February 2022 at a price of around $AU230,000 (€150,000), is being built in Finland. Only 946 vehicles of this model are being made, with the first to be delivered to customers next year.
Lightyear claims the Zero's bodywork incorporates five square metres of solar panels, which can add up to 12km of driving range every hour on a sunny day.
The battery can also be charged while on the move, with Lightyear claiming the Zero can "commute for months before ever needing a plug-in charge".
Will we all be able to buy solar-powered cars?
Lightyear has previously announced plans to launch a more affordable solar-powered electric car, the Lightyear Two. This model is set to be priced at a far more affordable $AU46,500 (€30,000), with European sales still a year or more away, even before production starts.
Meanwhile, just a month ago, German start-up Sono Motors revealed its plans to launch the Sion solar car, priced from $AU46,350 (€29,900).
More than 1900 European customers have placed a $AU3440 (€2225) deposit on the Sono Sion, which can reportedly drive for up to 305km on a single charge, with the solar panels providing as much as 245km of additional driving range per week.
We're also keeping an eye out for further details from US technology start-up Aptera Motors, which unveiled its 'gamma' prototype, a three-wheeled solar-powered electric car, last September.
The US firm claims the car will enter production next year at its factory in California.
Some EVs are relatively affordable
While the likes of Audi, BMW, and Land Rover have a variety of EV models priced from around $100,000 to more than twice that, BYD has five models available in Australia for under $50,000, with the Dolphin Dynamic at around $39,000. MG has a similarly priced range (also starting at $39,000), while GWM's Ora starts at $44,500.
Mitsubishi and Nissan, each offer an EV at just over $50k, two of Cupra's three models are around the $60k mark, while Hyundai has eight models priced between $60k and $90k.
It's also clear why Tesla's two offerings are so popular, with the base Model 3 starting at $60,000 and the Model Y around $72,000.
Industry experts believe we will see some EVs priced at around $25,000 within the next 10 years, although there's little chance that they'll get close to the $15,000 price tag of quite a few compact petrol-fuelled models.
Is Australia keeping pace with the rest of the world?
Based on global figures from the International Energy Agency (IEA), 14% of all new cars sold around the world in 2022 were electric. Throughout Europe, EVs accounted for about 20% of new car sales, surpassing 30% in Germany. The Australian proportion of 3.8% doesn't look too good in comparison to those figures.
The IEA has predicted that EV sales will increase 35% from 2022 to 2023, which would see EVs account for 18% of total car sales by the end of this year. Based on current growth and other factors, they now expect EVs to make up 35% of new car sales by 2030.
More than 10 million EVs were produced globally in 2022, thanks in no small part to Chinese manufacturer BYD, which overtook Tesla in sales.
There appears to be little doubt that sales of electric vehicles will continue to increase year-on-year, but the question of how long before they reach a point where we can consider them "mainstream" here in Australia is one we can't answer just yet.