There's been a lot of talk about an energy crisis. In fact, there has been one in Europe (which we've written about), so it was only a matter of time before the impact hit Australia.
At the same time, you can't look anywhere or do anything without being painfully aware of the rising cost of living. Interest rates, petrol prices, and food prices are all on the up. Energy prices are, of course, not immune from that upward trend.
It's tempting to block out the noise and try to ignore the chaos, but as we're all being hit hard right in the hip pocket, here are some facts and figures for those who want to face this head on.
The Australian Energy Market Operator (AEMO) is tracking the soaring wholesale price of energy
AEMO recently reported that during the first three months of 2022, the average wholesale price of electricity was already 67 per cent higher than the previous three-month period, October through December 2021. 
The more dramatic figure came when AEMO compared those first three months of 2022 to the first three months of 2021, with that year-to-year rise being 141 per cent. 
The ABC covered the move in the article Wholesale power prices soared 141 per cent, year on year, and households should brace for more (Friday 29 April 2022).
The Guardian looked at the same AEMO report slightly differently in an article on the same day: Australia's wholesale power prices double in a year as coal-fired power plants falter.
"By the end of the March quarter, the average price in the four eastern mainland states was $94/MWh, up from an average of $65/MWh at the end of 2021.
On Thursday*, future prices for this quarter topped $200/MWh for both Queensland and New South Wales, indicating the jolt in costs is continuing." [*April 28]
The Guardian article also had this to say about gas prices: 
"Gas prices also soared two-thirds from a year earlier. Prices were at near-record levels across all Aemo markets, averaging $9.93 per gigajoule, compared with an average $6.05/GJ in the March quarter of 2021. Record gas prices were set in Victoria, Brisbane and Adelaide, while Sydney posted its second-highest March quarter level."
Gas prices have risen even in the off-peak season before the peak demand period in winter
As reported in the Financial Review in a May 10th article, Soaring gas price pushes manufacturer to brink, there has already been an unprecedented spike in wholesale gas prices:
"Wholesale gas prices in Victoria have tripled or quadrupled from typical levels to more than $30 a gigajoule, while prices in Sydney are north of $26/GJ even before colder winter weather drives up demand to peak levels." 
On the day of writing this blog post, the price increased even further. 
You can see how wholesale gas prices are tracking on the Australian Energy Regulator's website, which has this graph, as well as the dollars and cents data behind. It shows the prevailing trend.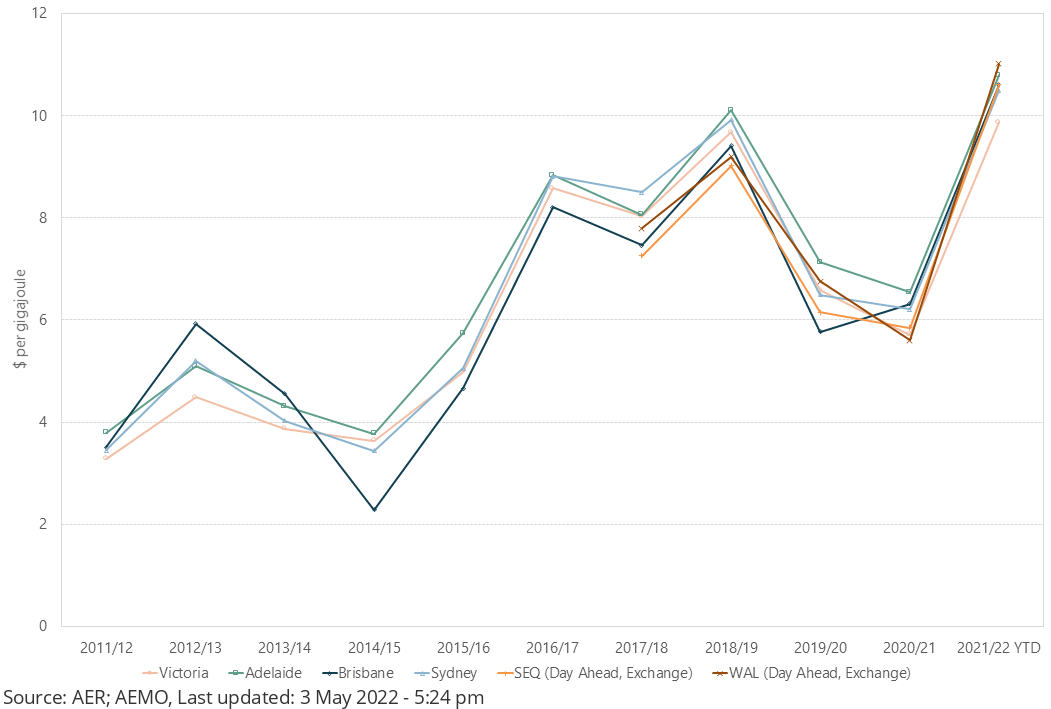 The Australian Competition & Consumer Commission (ACCC) reported in mid-February that domestic gas contract prices offered to commercial and industrial users had increased from $6-8/GJ in late 2020 to about $7-9.50 by mid-2021. 
"European gas markets have been highly volatile, and as of 28 January the outlook for prices on the Asian LNG spot market in 2022 was over $36/GJ on average."
Mozo looked at those ACCC figures in early March in this piece: Higher gas prices in your home? Global gas looks unpredictable right now.
"Conflict in Europe has led to further speculation over the future of gas prices in Australia. 
In Europe and Asia the disruption to normal supply has meant that the price for natural gas has skyrocketed to record-breaking levels. Gas has become increasingly expensive for both domestic and industrial uses." 
A blunt assessment from Scott Phillips
The Motley Fool's Chief Investment Officer Scott Phillips recently told Sky News that electricity prices are going to "go up" – as increases in energy prices are "significant".
You can watch his comments at about 2:22 in the video here.
Meanwhile, Dylan McConnell, research fellow at the University of Melbourne's climate and energy college, wasn't sugar coating his assessment in the Financial Review article Households set for higher power bills as wholesale prices double (April 4).
He noted that "futures contracts also indicate wholesale prices are likely to remain high for a prolonged period." 
Will retailers pass on the cost increase?
When we talk about the wholesale cost of gas and electricity, you might wonder if that's what's being passed on to you in your bills. 
The simple answer is: yes.
Retailers basically buy in bulk and bill individually, but they don't control the underlying cost. Late last year, when the ACCC released a report from the ongoing Inquiry into the National Electricity Market, it noted that only three per cent of the average annual cost for residential customers – which it found to be $1,434 – was the retail margin. That worked out to less than $50 a year.
Such miniscule margins mean retailers are unable to soak up such significant wholesale increases.
"There has been a multi-year trend of gradual reductions in retail costs and margins. This general pattern is found across most National Energy Market regions and for both residential and business customers", the report said. 
Here at GloBird Energy, we will continue to keep our overheads as low as possible as part of our mission to do whatever we can to offer the best value gas and electricity plans.