Rewind your energy rates into the future…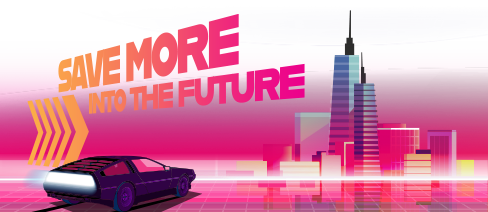 RetroSave lets you travel back in time! Avoid the expensive 2020 Victorian Default Offer rates. Keep the cheaper VDO rates you had in 2019.
In July 2019 the Victorian Government introduced a regulated price electricity plan called the VDO (Victorian Default Offer). To protect consumers, the VDO is a fair price for electricity. All customers in Victoria that were on a standard default offer known as a "standing offer" were automatically moved onto this regulated VDO price. However, from January 2020, the Victorian Default Offer increased significantly. This meant all customers on a standing offer (with any energy retailer) got a price increase, and it's massive.
RetroSave is available to residential customers in Victoria only.
Victorian Default Offer Supply & Usage rates
To use the Victorian Default Offer (VDO) as a reference price when comparing plans, you'll need to understand which energy network you live in, because the annual cost of the VDO differs between areas of Victoria. The below chart shows VDO prices across the state's five distribution areas, based on a typical 4000kWh annual energy usage; and how they've changed in 2020.

GloBird's RetroSave 2020 Rates
RetroSave is a market offer available to Victorian residential customers on a normal flat rate tariff. If you meet the conditions of this plan you will pay the same rates that you would have based on the cheaper 2019 VDO, not the more expensive 2020 rates. Not only that, but your rates are guaranteed for all of 2020. There is no lock-in contract or exit fees. Plus, if you like, you can even pay a one off $50 to lock in the same rates again for another full year (all of 2021). RetroSave is a perfect plan if you want a fantastic energy deal with zero risk of unwelcome price changes. Travel back in time with us now.
Get a further 1% discount when you direct debit.
And get an even bigger discount when you bundle Electricity & Gas.
For associated fees, Terms & Conditions – click here