In July, a report released by the Australian Energy Market Commission found that many consumers are still paying significantly more than they need to for electricity and gas.
The report noted that this is partly because people don't get all the information they need.
It's certainly not a new thing that consumer associations and advocates encourage us to do as much research as possible on any buying decision, and particularly when signing up to any long-term deal.
One of the key points the AEMC report made was that companies are attracting people with special offers that only last for a certain time, but then the consumers, more often than not, stay with that retailer even after the introductory offer expires and the deal is no longer very 'special'.
In short, they rely on your 'consumer inertia' – the tendency to stick with something rather than go to the effort of making a change – to keep you as a customer, even though you could get a better deal with another provider.
Knowledge is power
In our modern world, consumers have more control than ever over most of the purchasing choices they make. Some of the factors contributing to that are:
A more competitive marketplace means businesses are doing more to make their offerings attractive;

A better understanding of consumer behaviour – including via feedback from customers – means businesses know more about what people want (and are concerned about);

The internet, in general, making it much easier for people to research and 'shop around';

Social media encouraging people to share their experiences, reviews, and ratings, so 'word of mouth' recommendations are no longer just from close friends and neighbours.
All of that means we have less of an excuse to do nothing and stick with a status quo that is costing us money.
Then the Prime Minister said …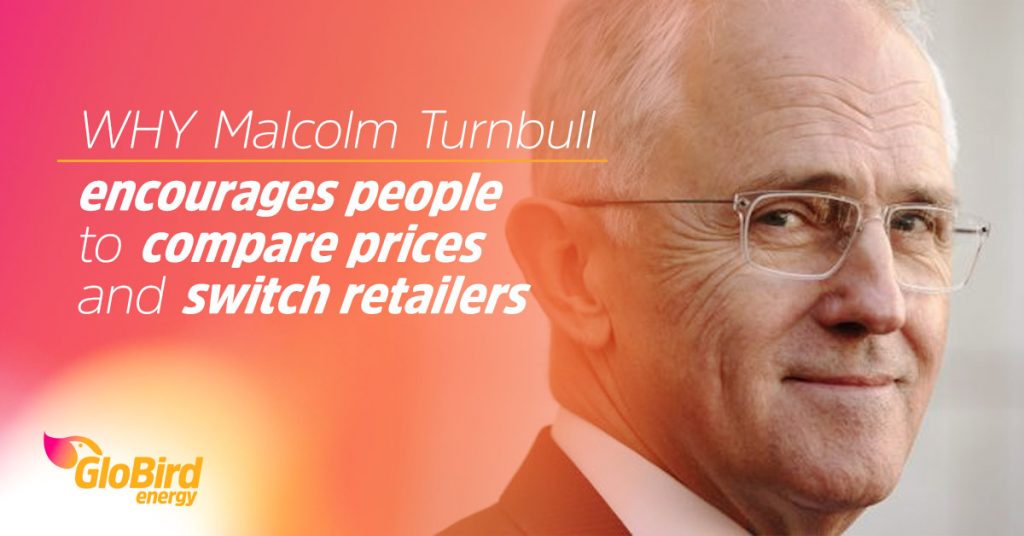 If the AEMC's national energy retail competition review didn't make it 'official' enough, a couple of weeks ago the Prime Minister weighed in.
Mr Turnbull, Treasurer Scott Morrison, and Energy Minister Josh Frydenberg, met with eight electricity company bosses, and then told us about it.
They came up with a deal with the major energy retailers that they would inform their customers better, particularly when their rates were changing from an introductory discount offer.
"This will ensure that Australian families, thousands of Australian families — hopefully millions of Australians — better informed, will then be paying less for their electricity," the PM said.
In subsequent media interviews, Mr Turnbull went on to tell people to compare prices and switch retailers if they found a better deal.
So … what are you waiting for?
Even if you don't agree with the Prime Minister's politics, it's hard to argue with his logic: if you can find a better deal, make a switch.
GloBird Energy is committed to not only being competitive with pricing but better than other energy retailers in terms of customer service.
We're confident that our offering compares better than most, partly because we offer a 35 per cent pay-on-time discount on your entire bill, not just the usage portion.
We've made it really easy to compare on our website – you don't have to enter your contact details or sign up for anything, just grab your latest electricity bill and get an online quote in under 30 seconds.
If you have any questions, call our Customer Service Hotline on 13 3456 or message us through our Facebook page and we'll give you the best we've got!