What are the main differences between estimate and actual billing?
Sometimes it's just not possible to obtain an Actual meter read in a timely manner – in which case GloBird may need to Estimate your bill.
There may be times when:
a meter reader has been unable to access your site
GloBird has not been provided with a read from your meter
Your billing cycle is more frequent than your regular meter read schedule
you have provided your own meter read (self read) and we have extrapolated that data to inform your bill
When your next Actual bill is calculated, the previous Estimate balance is taken into account so that in the end – you'll have a correct account for your exact usage.
What is bill shock?
Bill shock occurs when you receive a bill that is higher than you were expecting. This can be caused by many factors, including
You used more energy than you thought you did
Your meter recorded a higher than normal read due to a gas leak or faulty appliance
You receive a bill covering a longer than normal billing period
Your previous bill was underestimated because an actual meter read couldn't be taken
Can an estimate read cause bill shock?
As an energy retailer we sometimes rely on estimate reads rather than actual reads. Estimates are a mathematical guess based on your previous usage data. The longer we go without receiving an actual read, the harder it is to estimate accurately. This is why enabling ongoing access to your meter is very important.
For example:
Let's say you usually use 100 units of gas every month of the year, except during Winter (June-August) when you use 300 units of gas per month.
The meter company responsible for reading your meter would send us the following actual reads indicating use of 100 units each month:
Actual: January 8100
Actual: February 8200
Actual: March 8300
Actual: April 8400
Actual: May 8500
But let's say the meter company couldn't access your meter during June or July. Based on your previous usage data, we would estimate that you continued to use 100 units in June and July, so our estimate would be:
Estimate: June 8600 (in reality the true read should be 8800)
Estimate: July 8700 (in reality the true read should be 9100)
Actual: August 9400
Let's imagine you pay $1 per unit of gas for the purposes of this example. This means you would be billed $100 each month for June and July, even though in reality you should have been billed $300 each month.
By the time we receive the actual read from the meter company in August, it would show a true read of 9400. However, since you've only been billed on a previous estimate of 8700, your new bill shows an amount owing of $700.
If we've underestimated your bill in the past, please let us know. We understand this can cause a shock and we can set up a manageable payment plan for you to help you get back on track.
What if an estimate is wrong?
We take care to estimate as accurately as possible, but estimates can vary. However, your bill will always even out when the next actual meter read is done. Any incorrect estimate would be either a bit lower or higher than it should be – but once the next actual read is done, we immediately adjust your account with the actual read to ensure that you only pay for the energy you've used.
Example: imagine the last series of monthly reads on your meter were 8100, 8200, 8300, 8400. That means you used 100 units every month for three months. Let's imagine you pay $1 per unit. You should be billed for $100 each month. This equals $300 for all three months together. However; imagine your second month's read was overestimated incorrectly, and we used an estimate read of 8350. You would have been billed like this: 100 units in month one, 150 units in month two, but only 50 units in month three. This still equals $300 for all three months together.
Do I have to pay for leaked gas?
If a leak occurs BEFORE the meter, the meter will not record the lost gas.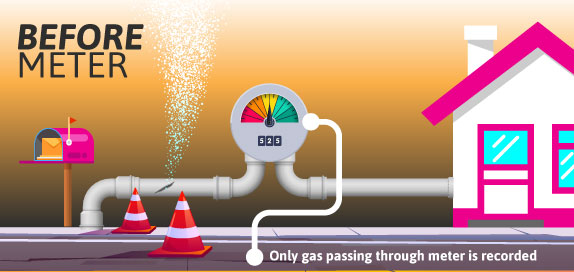 The local gas distributor is responsible for infrastructure and pipes up to the meter.
Everything from the meter onwards is your responsibility. If you have a leak or faulty appliance on your side of the meter, you will be charged for gas that is recorded at the meter.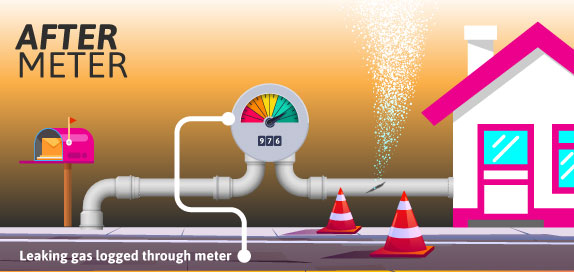 If you suspect your meter is recording more gas than you're using – have your gas pipes checked. A qualified plumber can perform a basic pressure test that will tell you if you have a fault or leak. Another trick you can try, is to make sure all gas appliances are off and to look at the meter dial, if it's still turning while you are not using gas, it could indicate a leak on your side of the meter.
What about reference reads and catch-up bills?
A reference read is the most recent actual read. We use it as the reference point (a known amount of usage at a known time) to compute your energy usage.
It confirms your previous known usage
It guides our forward estimate
It forms the anchor point for any washout (catch-up) bills
Reference reads are actual reads provided by the metering company or a customer's self-read.
It tells you which portion of your bill was calculated using confirmed usage and any portion yet to be confirmed.
Learn more about reference reads and catch-up billing here.