Ideally, where would you locate one of the world's largest renewable energy systems?
If you thought of the Northern Territory, give yourself an elephant stamp!
Not only is there plenty of space and consistent sunshine almost all year round, but the proximity to the massive population of South East Asia makes a very large project commercially viable.
Is this a real thing?
A company called Sun Cable is developing the world's largest solar energy infrastructure, including a massive undersea cable to deliver energy from Darwin to Singapore.
The Australia-ASEAN Power Link (AAPL) will comprise of the world's largest solar farm, the biggest battery storage facility yet built, and a 4,500km transmission system.
It promises not only cheaper electricity, but more reliable electricity supply and, of course, greener energy for places that have previously not had much access to that.
The ambitious project took a step forward last month (January 28th) when Sun Cable and the Northern Territory Government signed a Project Development Agreement.
It had already been given Commonwealth Government Major Project Status in July 2020.
The project includes a solar and storage precinct near Elliott, about 750km south of Darwin, high voltage direct current (HVDC) transmission connecting the precinct to the Darwin-Katherine Interconnected System (DKIS) and proposed Middle Arm Battery, and a HVDC submarine link to Singapore.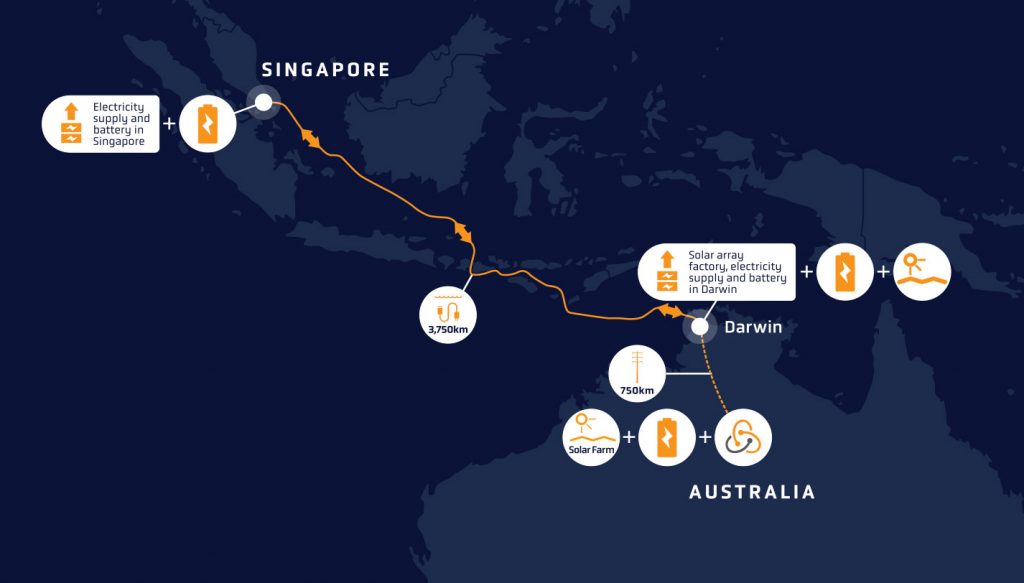 It's slated as a 70-year, $22B project, due to commence construction in late 2023, with first electricity to Darwin by 2026 and Singapore from 2027.
The solar farm
The solar power plant Sun Cable is building aims to generate 10GW. The energy will be transmitted to a 30GWh battery storage facility, 150 times the size of South Australia's Tesla Big Battery.
The site they have chosen is strategically positioned far enough south of Darwin to avoid most of the cloud cover that Darwin gets through the wet season, but on the railway and not too far from the Sturt Highway, which is important for the construction period, at least.
Among the backers of Sun Cable are Australian software billionaire Mike Cannon-Brookes and mining magnate Andrew 'Twiggy' Forrest.
"We have a rich energy export history and renewables is our next big step. We have the technology. We have the economics. And we have an opportunity to become a renewable energy superpower," Cannon-Brookes said.
The submarine cable
Several High Voltage Direct Current (HVDC) cables will run from Darwin, through Indonesian waters, to Singapore. Each will be around 30 centimetres in diameter.
The fact that technology has now advanced to the point where transmission can be in direct current is what makes a project of this scale, covering such long distances, feasible (transmitting over distance in alternating current results in significant loss of energy).
The first phase was completed in late November, when the Guardian Geomatics vessel Offshore Guardian completed an 87-day operation to survey the proposed route through Australian waters.
According to the company's report "the work scope consisted of 35,448 man-hours of multibeam (MBES), side scan sonar, sub-bottom profiler data, cone penetration tests (CPT) and core samples".
The corresponding effort to survey Singaporean and Indonesian waters is due to get underway shortly.
The expected outcomes
There are a lot of positives for the Northern Territory, notably greater security of supply for Darwin, which has had reliability issues for some time.
By being able to offer greater reliability and lower prices, the NT expects to be able to attract industries that use a lot of power.
Sun Cable is also looking to provide cheaper electricity to remote communities which currently rely on diesel generators. The fact that it's also greener electricity (most sources are better for the environment and the population than diesel) is an added advantage.
Once the undersea cables are in place, Sun Cable expects to be able to supply up to 20 per cent of Singapore's energy needs. Singapore has a highly industrialised economy that currently relies on gas for around 95 per cent of its electricity generation.
And then …
Sun Cable thinks this project will be the first of many.
While Australia's reliance on electricity is well established, the transition to a greater penetration of electricity is underway in earnest throughout much of the Indo-Pacific region. This means the opportunity to initially build the necessary infrastructure for renewables is significant.
Our nearest northern neighbour, Indonesia, is on the verge of cementing its place as the world's fourth-largest economy.
It's reasonable to expect that there will be opportunities for more such projects in the future.