This offer has ended.
Get rewarded when you top up your account.
What is Bonus Boost?
Are you the kind to 'squirrel' away a few dollars to get ahead on your bills? We've noticed that lots
of GloBird customers like to store credit up for winter – so we've decided it's time to reward your
effort with a nice bonus credit! Yes, we've gone 'nuts' giving bonus credits away, and we call it Bonus Boost.
It's easy… simply top-up your GloBird account (basically pre-pay for future energy bills) and we'll give you
more credit for your effort! The bigger your pre-pay amount, the bigger the reward.
Call us on 13 3456 and we'll help you make it happen
Check out the terms and conditions below to make sure Bonus Boost suits your style; and start
squirrelling it away today.
Bonus Boost Earning Calculator
Top-up your account by:
Receive a

Bonus Boost

of:
$500
$20

Bonus Boost

$800
$50

Bonus Boost

$1500
$100

Bonus Boost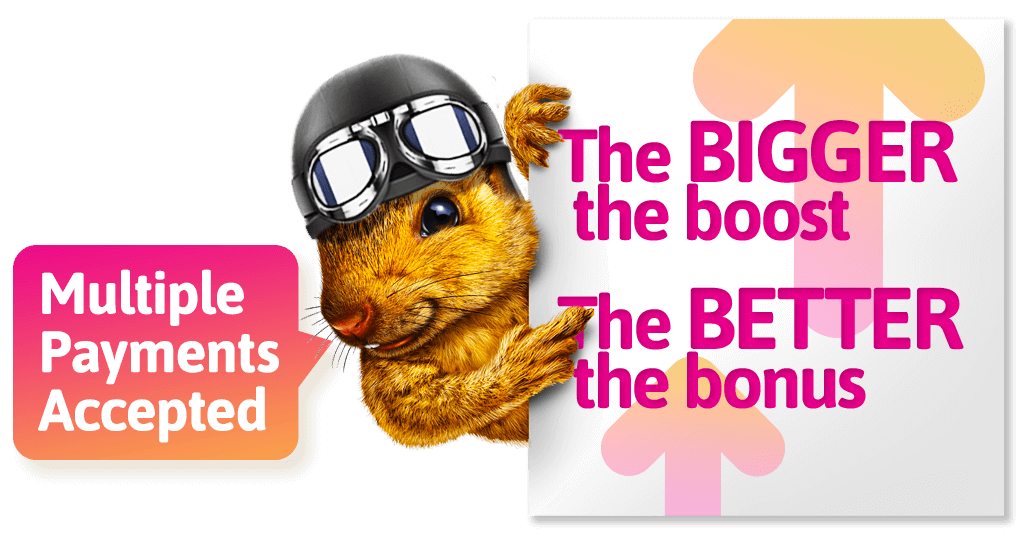 Multiple payments accepted.
For example if you make two separate payments of $800 – you will receive two $50 credits.
Important! For the system to automatically apply credits, payments must exactly
equal one of the amounts listed in the table. Either $500, $800 or $1500.
Just use your usual payment reference number.
It can be found on any recent GloBird bill, or in the SMS promoting this special offer
Check your bill for payment types.


Some Terms & Conditions apply.
Both the deposit and the automatic bonus credit will be added to your account on the next business day after payment is made and will show on your next bill.
The credits can only be used towards your energy bills. The credits and bonus cannot be withdrawn or redeemed for cash.
Any existing account credit will not be taken into consideration, the bonus credit will only be paid on a new deposit after the promotion start date.
Your account must be up to date with no outstanding bill or balance due at the time of making the deposit.
Your account must be up to date at the time of making the deposit, if there is an outstanding bill, any payment will go towards the money owed first.
The bonus credit is triggered based on the net account balance amount after your deposit, not on the payment amount.
Example, if you deposit $500 and your account has zero owing, then you will automatically receive the bonus $20 account credit, however;
if you had an outstanding balance of -$300 at the time you made the deposit of $500, then your net account balance would only be $200 in credit. This would not result in a bonus credit.
Not to be used in conjunction with any other special or promotional offers.
Be quick. Offer expires 27th April 2020. This offer has expired.